Click Here for zoom link for training if registered

Program Title:  Externship in Emotionally Focused Therapy, 28 contact hours
The 4-day EFT Externship includes the observation of live couples session and video recorded couple and individual therapy sessions.  Also, there are presentations of theory and clinical techniques.  Introduction to skills, training exercises, discussion groups and role-play practice.   This Externship is endorsed by Dr. Sue Johnson.
We meet each day from 8:30 a.m. Mountain Standard Time until 5 p.m. with a 50 minute lunch and 20 minutes of break and stretch time in the morning and in the afternoon.  28 CE's are offered (NBCC application and approval pending).  This EFT Externship approved by ICEEFT.
Engaging – Experiential – Inspiring:  Emotionally Focused Therapy primarily works through generating new experiences for couples, families and individuals in session.  Congruent with the model, the teaching, facilitation style of your presenters leans heavily on:
Engaging Presentations
Powerful Video Examples and Live Demonstration of the Model in Action
Personal Involvement for Participants through Discussion – Small Group Exercises – Role Playing
A variety of exercises and involvement over the 4 days.
---
Nationally renowned training in Emotionally Focused Therapy, The EFT Externship will:
*Help you be successful treating couples and relationships.
*Will help you improve your own compassion for others and strengthen relationships in your own life.
*Improve your skills as a therapist by having more success in treating couples.
Learning Objectives
Apply attachment theory to understand relationship distress (conflicts, distance, stuck places) for couples and families.
Ability to track, reflect and explore negative relational cycles that are fueled and maintained by attachment distress.
Access, evoke and deepen partner's experience of underlying primary emotions that are not expressed directly in negative relational cycles.
Practice and use the 5 Core Moves of E.F.T – "The EFT Tango"
Facilitate partners moving from emotional dysregulation to emotional co-regulation and from an insecure attachment to a more secure attachment via "bonding events."
Learn how to address a range of presenting problems such as affairs, addiction and trauma with couples, families and individuals using E.F.T.
---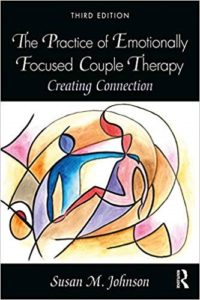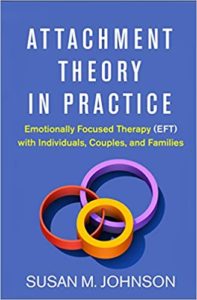 To obtain the maximum benefit from the Externship experience, participants are encouraged to read the latest edition of The Practice of Emotionally Focused Couple Therapy: Creating Connection (Johnson, 2019) and Attachment Theory in Practice: Emotionally Focused Therapy for Individuals, Couples and Families (Johnson, 2019).
The EFT Externship is the initial training in Emotionally Focused Therapy.

E.F.T. stands out as the couples therapy model with the most outcome studies, that the A.P.A. reports meets the Gold Standard for therapy model research.  As an empirically-validated model, it is also supported by tens of thousands of studies in attachment theory.  As Sue Johnson, primary developer of E.F.T., says, "Our key relationships are not bargains, arrangements or negotiations, they are emotional bonds."  E.F.T. provides a simple parsimonious understanding of couple's and family distress as fueled by underlying attachment fears, longings, and shame.
This 28 contact hour training event provides an engaging interactive process rather than 4 days of power points and lecture.  Participants observe video examples of E.F.T session work.  Live demonstration with a couple, discussion groups and role play practice remain key parts of the online experience.
To learn more and claim a spot in this limited enrollment opportunity, please scroll down to the Registration Rates Below:
Approved by the International Centre for Excellence in Emotionally Focused Therapy.  The gateway training for those wanting to learn E.F.T. and for the E.F.T Certification process, the EFT Externship provides the foundation for implementing E.F.T. in your therapy practice.
This training is endorsed by Dr. Sue Johnson author of Love Sense and Hold Me Tight, and developer of Emotionally Focused Therapy.
Participation throughout the entire four days is required.
Participants will keep their video cameras on during training times (with the exception of short "camera breaks" as needed).

Registration -this training is currently full.  To request wait list status, please email patricethomasnfp@msn.com
Please note, graduate students may be asked to forward proof of enrollment to us to obtain graduate student rate.  Thank you.
We happily offer a limited number of partial scholarships for clinicians working with under served  populations and clientele particularly impacted by social justice issues (in which the clinicians income is limited by the work setting in which they provide these services).  Contact us for details at instituteforchange@msn.com
ABOUT YOUR PRESENTERS:
James "Doc Hawk" Hawkins, Ph.D., L.P.C., joins us from Arkansas.  He enjoys getting to share in conferences, podcasts, organizations, and churches on matters helping people with emotional and relational health.  Doc Hawk brings a passion for sharing attachment theory and E.F.T. to therapists, couples and families across cultures.  "I have hosted leadership conferences, couples conferences, and racial reconciliation events (all integrating principles from attachment science)," James told our Colorado Center Team.  If you have seen him speak, you know his talent for engaging an audience.
"My passion is to help people flourish in relationships ranging from marriage & family to organizational health, and community race relationships," James says.  He is a Licensed Professional Counselor with 11 years of experience. With a Masters in Marriage and Family Counseling, and Ph.D. in Psychology and Counseling, James earned Certification as an E.F.T. Therapist and Supervisor.  Currently, as a clinical coordinator he helps lead a key counseling center in Arkansas.
Jim Thomas, L.M.F.T., Director, Colorado Center for E.F.T. helped develop the thriving E.F.T. Community in Colorado.  He shares with James a passion for engaging trainings with strong experiential elements.  "Jim is a leading thinker in the marriage and family world," says Dr. Bill Doherty, "I would go out of my way to hear what he is saying about therapy today."  Jim developed 9 unique Master Class 2-day trainings for experienced EFT Therapists.  He has trained across the U.S., in Canada, Europe and Australia.
Throughout his 32-year career, Jim worked in a variety of treatment settings in therapist, supervisor and clinical leader roles.  "My work allowed me to experience working across cultures with a wide range of families, across diverse populations.  A poignant honor to need to look at my own inherent white privilege, my heterosexual biases, and other possible barriers to connection."  Jim loves E.F.T.'s unique ability to call forth common elements of the human emotional, relational experience.   His current focus is bringing E.F.T. and attachment theory to addiction programs around the U.S.
Simultaneously, E.F.T. points us towards how effects of culture, context, oppression, marginalization, and other key factors impact attachment on multiple levels.  E.F.T. elegantly surfaces the power of secure attachments and emotional bonds across cultures, context, and time.
 Partial Scholarships are available for the Externship in Emotionally Focused Therapy.  In order to qualify for consideration, if at least one of the following criteria are met.
Have demonstrated experience or interest in working with BIPOC and/or LGBTQ+
Have demonstrated knowledge or experience in BIPOC and or LGBTQ+ cultural issues.
Work in historically marginalized communities.
Have low income that makes cost of training an obstacle/barrier to participating.
Participation is limited to mental health professionals.  Either licensed mental health professionals, post-graduate professionals working towards supervision, or graduate students in programs that meet the educational requirements for a mental health license where they reside.  Life coaches, relationship coaches, and others not meeting these requirements are not able to attend.  Pastoral and Spiritual Counselors who can demonstrate training in counseling techniques may be able to attend, contact us for details.
The training cannot be audio or audio/visually recorded under any circumstances.  Information shared about clients for video or live demonstrations, along with copyright protections, and HIPAA requirements necessitates strict adherence to this policy.  We appreciate your cooperation.
Attendees must attend and participate in all 28 hours of the training.  Video cameras are to be kept on during the training with allowance for occasional brief camera breaks (for eating food, stretching, etc).  We ask each participant to engage actively with us in a co-created learning community.  We will join you there.
Cancellation Policy:
There are no refunds available at this late date.  We apologize for any inconvenience in line with published cancellation policy when you registered.
14 days or closer to event:  We are unable to give refunds at that late notice – without exception – due to contractual obligations, fixed costs and other factors.  We apologize in advance for any inconvenience.
"Externship in Emotionally Focused Couples Therapyhas been approved by NBCC for NBCC credit. Colorado Center for Emotionally Focused Therapy is solely responsible for all aspects of the program. NBCC Approval No. SP-3652."
Please note, we plan on a live session – a demonstration of Emotionally Focused Therapy – and in the rare event of a therapist not being able to observe this learning activity for ethical reasons, there may be a reduction in the C.E.'s available.  This has not happened to date, and we will ask the couple if prior therapists can observe the session if they happen to be in attendance.
If not satisfied with the quality of this program at any time during the training, please alert Center staff.  We will attempt to respond to any reasonable request.  If not satisfied with overall program, a full refund will be made.